weekly specials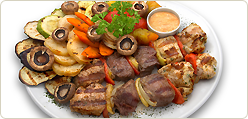 Enjoy our weekly specials menu!
Chef Michael prepares a weekly menu that uses the freshest ingredients to prepare a sensational menu for our diners.
The menu is changed every week and also put live on our website every Friday morning. The specials run throughout the weekend till Wednesday night. Please take a chance to look over the weekly changing menu.
bar specials
Special One...$10.00
Special Two...$15.00